Unique Dial Covers
Choose from a wide selection of ship, pilot, and faction specific dial covers and fly your squadron in style.
Shop Dial Covers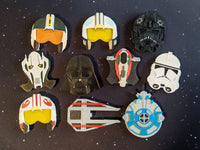 Ship Identification
Optimize and simplify your gameplay with color coded and numbered tokens, arc indicators, and dial covers.
Shop Ship Identification
Storage and Organization
Find X-Wing zen with custom designed inserts and organizers to clean up the mess that this game can be.
Shop Storage and Organization
Tokens
Upgrade your collection with efficient double-sided tokens. The small tokens are standard FFG sizes. Medium and large versions are available as well.
Shop Tokens
popular around the galaxy
what customers are saying
Robert
Got tokens, organizer, and dial cover from this shop and not only are they premium, but they were quick and look amazing! Super stoked. Can't wait to play with this kit. Thanks again Kuat Print Yards!
Matt
Perfect fit. Well made and a nice selection of colors!
Joel
Quick turnaround and I had these delivered within a few days. They're going to make a fantastic addition to my tournament kit. And now I can cut down on how many tokens to keep up with during tournaments